I think our portrait for this month is particularly fitting, what says spring better than baby lambs? Mmmmmm tasty.
Before arriving at the farm to see the lambing we had been quite sure we would be spending the majority of our time staring at machinery rather than animals as F has never really shown much interest in living things (including his own dear brother).
For example, at Longleat Safari Park i brought him face to face with an incredibly intriguing anteater, certain it would spark a flicker of interest but he just wriggled free of my grasp and bolted towards the train. Things were no better at Marwell Zoo where he spent most of the time peering through the bars at the various breeds of digger helping construct a new enclosure.
He often looks at animals, including our own cat, blankly or with an element of contempt or disdain – as if to question 'whats the point in that, it doesn't even have wheels?'

So imagine our complete delight to see him actually stroking a lamb of his own accord! For an animal lover, with little to no interest in cars, this was very pleasing to me indeed.
It was no surprise to find that the baby loves lambs, the baby loves everything. One – what an age, a sheer delight in every way. I would consider freezing him in time right now if it were not for his life's mission to kill himself and destroy everything in his path.
So in April we learnt that we all like lambs – both eating them and looking at them. Luckily as yet, no connection has been made between the two.
This post is linked up to the very lovely Lucy at Dear Beautiful's family portrait project, a great way to make sure you get a monthly family snap :) click the button below to read more posts or join in.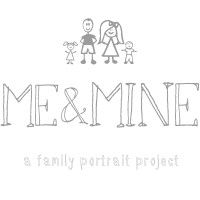 If you enjoy my blog please take a few seconds to vote for me in the 'Fresh Voice' category in the Brilliance in Blogging awards. Voting closes on the 16th of May and it would be hugely appreciated :)
**************
P.S. I have a new book OUT NOW! You can nab it on Amazon
here
 or in your lovely local bookshop :)