Oh well this is a crap iPhone job to be honest. I just got a passerby to take a quick photo, the littlest is asleep and the older one isn't looking at the camera. I considered going out to take an alternative but it depicts such a lovely day that i wanted to use it anyway.
We are so lucky to live where we live but sometimes we whinge about the house prices, tiny garden and the bloody seagulls waking us up at 4am (even when i am asleep i dream of conducting a mass seagull massacre with machine guns); still when we can draw ourselves out of our own misery we remember that life is good, very good at that. We also remember how good it is to spend a bit of time being tourists again…
We heart Brighton :)
This post is linked up to the very lovely Lucy at Dear Beautiful's family portrait project, a great way to make sure you get a monthly family snap :) click the button below to read more posts or join in.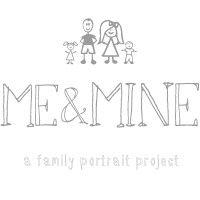 **************
P.S. I have a new book OUT NOW! You can nab it on Amazon
here
 or in your lovely local bookshop :)