The application is submitted,
No longer can we ignore,
That to school we'll be committed,
When you've only just turned four.
They say that you will struggle,
Not prepared for what's in store,
That there's a lot for you to juggle,
And it's hard for those of four.
It might be tough to do alone,
Getting dressed is still a chore.
Still by then you will have grown,
We've time until your four.
I know that you're excited,
For what you'll see, do and explore,
And the nerves won't be invited,
You're so brave at not yet four.
First days soon, will come about
And I'll lead you through the door.
I'll try my hardest not to shout,
'My baby's just turned four!'
So I could say that i will miss you*,
And collapse upon the floor.
But I'll just be proud and kiss you,
So grown up at only four.
(*plus I really won't miss the incessant whinging, pushing cars around the floor all day and paying for childcare #joking #notreallyjoking)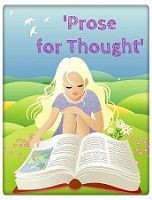 **************
P.S. I have a new book OUT NOW! You can nab it on Amazon
here
 or in your lovely local bookshop :)