Things lately have been hectic but lovely with lots of trips and visits in June. With the World Cup wanderer now returned we had a day out at a national trust place (Nymans) on Wednesday. It was our first full day as a family of four for quite a while and we were blessed with more wonderful weather.
This month is a bit of a milestone for me as well as it marks our 12th family portrait – a whole years worth of photos and nearly a whole years worth of blogging (I started at the end of July though so not quite). It's really interesting to look back on how we have all changed. The baby was but 4.5 months old and is now a bumbling loon of a toddler. The boy had a mass of golden ringlets and now he looks so grown up!
I have to give a shout out to Lucy for running such a fabulous linky – without you i would be lucky to have but one or two shots of the four of us :)
Finally i also attended my first ever blogging conference Britmums. You may remember that you wonderful people helped vote me through to the finals of the Brilliance in Blogging awards in the Fresh Voice category. Katy Hill (the former Blue Peter presenter!) was crowned the winner, you can check out her very beautiful blog here. It was a total honour to be a finalist and i would never have believed my name would have been up there if you had told me a year ago so thank you.
I had a wonderful time at the conference, there was free wine so i was obviously stationed next to the bar for the majority of the first day. The second day was a bit :-/ because of that. To be fair i didn't really take that much on board as i was so busy meeting and chatting to wonderful bloggers i can now call friends (and luckily not internet weirdos).
Thanks Emma for letting me share your photo's – i was obviously too lazy or drunk to take any myself. Below are links to all the lovely ladies pictured above – they have fabulous blogs so do check them out xxx
Brummy Mummy of 2, Make Me an Earth Mother, Wry Mummy, Californian Mum in London, Mummy Says, Potty Mouthed Mummy, Life at the Little Wood, Complicated Gorgeousness, Just a Normal Mummy, Cool Bananas Blog, Sisterhood (and all that) and Taming Twins.
This post is linked up to the very lovely Lucy at Dear Beautiful's family portrait project, a great way to make sure you get a monthly family snap :) click the button below to read more posts or join in.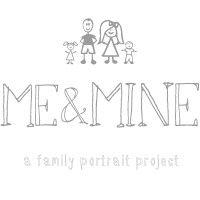 **************
P.S. I have a new book OUT NOW! You can nab it on Amazon
here
 or in your lovely local bookshop :)